There are no new Covid-19 cases in the community, director general of health Ashley Bloomfield says.
He said the new community case from yesterday was the UK variant.
Contact tracers have identified a link between the two families from the Auckland suburb of Papatoetoe.
All information to date suggests that all the confirmed cases are from one cluster.
This was a positive update, Bloomfield said, as it means there is still only one cluster.
He said there is a "strong" focus on seeing if there are any new cases at Manukau Institute of Technology, where one of the latest community cases studied.
He said at the "very least" people who were there should be at home in isolation.
Bloomfield said the Ministry of Health accidentally made a mistake "when working at pace" in terms of the dates around the Manukau Institute of Technology visits.
The correct times have now been updated, he said.
When will Auckland move out of alert level 3 if no new cases?
Prime Minister Jacinda Ardern said there is a possible person-to-person link with the new cases.
"This is good news," she said.
That means a very direct picture can be made, as to how they got the virus.
But she said the potential exposure event over the week was a concern.
Asked if she would consider moving Auckland out of alert level 3 if there continued to be no new case, Ardern said the UK variant does have a "longer tail" and that means there might be more positive tests down the track.
She earlier said it was "highly likely" there will be more community cases in the coming days.
Ardern said the advice that Cabinet received from the Ministry of Health was seven-day lockdown.
But all the information is being reviewed on a daily basis.
Ardern revealed that Cabinet talked about having Auckland at level 3 and the rest of the country was at level 1.
But she "didn't want to leave the rest of the country exposed."
Bloomfield said officials are seeing some "unpredictability" with this variant.
Asked if he was confident that level 3 is enough, Bloomfield said yes – as long as people follow isolation rules.
"As little human-to-human contact is what we ask for at level 3."
But those who are in isolation are essentially at a "full lockdown".
Should PM have moved sooner?
She said she was advised about the case at 3pm yesterday, but had "very little detail".
But the level of detail that was needed to make a decision came some hours later – around 6pm.
She said it would have been tough to shut down events half way through.
Big events were staged last night across the country, including the Joseph Parker vs Junior Fa in Auckland and a Six60 concert in Hamilton.
'Let's stick together'
Ardern acknowledged the "frustration" of Aucklanders.
But she said "turning on each other" won't help, referring to the community case that broke isolation rules.
"We are nearly there, in the meantime let's stick together," she said.
"We've done it before, we can do it again."
She said there have been a "number of events" that have been impacted by the new alert levels.
Ardern said she was "devastated for the fans."
But with Covid, there does come a time when these events have to be cancelled.
How will Govt enforce level 3 rules?
Ardern said she is keeping an eye out for rule-breakers.
The Government is doing check-ins on people who are isolating, the Prime Minister said.
She said if officials have concerns that people are not isolating, they will work with Police to ensure they do stay at home.
On the check-ins, she said the "vast majority" of people have been complying.
But a handful of people haven't been and that has had "dire consequences".
The last time check-ins were deployed by police was during the August outbreak.
PM's message to business
Ardern reminded businesses about the wage subsidy and the short-term absence payment.
The latter is for people who need to stay home as they have had to stay home.
She called on managers to talk to their staff and make sure they are not meant to be isolating.
If they have, she said, they need to stay home.
Ardern said staying home will keep everyone safe, and help ensure New Zealand can move back down alert levels.
Ardern's Covid warning
Ardern said New Zealand is now 7 hours into the new alert level settings.
But she warned that "Covid kills people".
The lockdown measures are to save lives, she said.
She asked that anyone who has symptoms to get tested straight away.
Last night, in a surprise press conference, Ardern outlined the details of the new community case which forced Cabinet to put Auckland into lockdown for the fourth time.
Also, anyone that was at a place of interest.
She also said people must stay home after their until they have been given the "all clear".
Others were told to say home.
"If you can work from home, please do."
She said New Zealand has beaten Covid before and "we can do it again".
She said the vaccine roll out is happening soon.
"We just need to keep going."
Who should get a test
Bloomfield said there are more testing stations up in Auckland – there has been 755 tests this morning alone.
But he called on only people who are symptomatic, and people who were at the location of interests, to get tested.
He said this UK strain has been showing symptoms that New Zealanders might not have seen before – such as aches and pains.
"You shouldn't be socialising and inviting friends over," he said, of Aucklanders.
But he thanked Aucklanders for their support so far.
Yesterday afternoon's community case, which officials are calling "Case M", was a household contact of a Papatoetoe High School student.
That student had tested negative for Covid-19 three times and was asymptomatic.
Despite this, official health advice was that all household contacts of students should have been self-isolating.
This person – a 21-year-old student – was in the community. On Friday, after he went to the GP to get a test, he went to the gym.
Ardern last night said this was "frustrating" and the person was not following the rules.
But she warned against a pile on, as that might deter others from getting a Covid-19 test.
She did, however, call on New Zealanders to follow the rules "on behalf of everyone".
Bloomfield will this afternoon reveal if any new community cases have been discovered.
Speaking to media this morning, Covid-19 Response Minister Chris Hipkins said testing had confirmed the new community case was the more infectious UK strain.
He expected there would be more community cases.
But he will reveal more information on the case this afternoon.
Speaking to Q&A this morning, Hipkins said South Auckland was clearly more at risk of Covid-19 and this would be "reflected" in the Government's vaccine rollout plan.
He said after frontline Covid-19 workers had been vaccinated, the Government would be rolling it out to "those who are more at risk within the community".
That would be people with health conditions and the elderly, he said.
He also said the Government was looking into places that had more risks.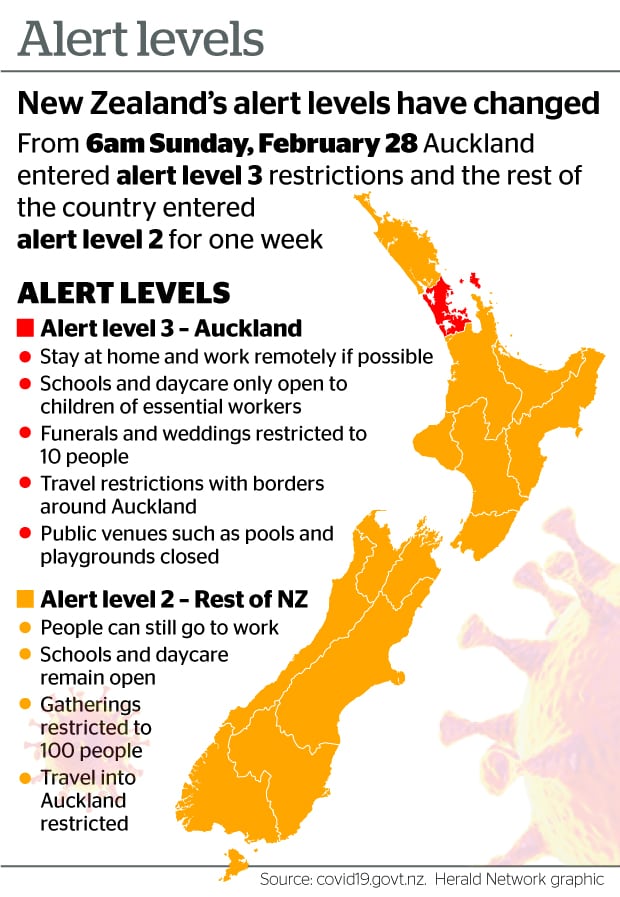 "Clearly, South Auckland is located by the big airport where most of the people are coming into the country from.
"Clearly, that [South Auckland] is a setting that probably is a bit more at risk. I think you will see that reflected in the vaccine rollout plan".
This will come as welcome news to National Party leader Judith Collins, who told Q&A it was "absolutely essential" the people of South Auckland are vaccinated first.
"I think it has to happen," she said.
Meanwhile, long queues on Auckland's roads formed this morning.
At Mercer, south of Auckland, police checkpoints were up and running within minutes of the new alert level activation.
Google traffic maps at 9am on Sunday showed delays and queues forming on State Highway 1 at Mercer.
About five officers were at one motorway off-ramp to stop vehicles and ensure people with travel exemptions were passing through but others were not.
Virtually all drivers were compliant, many even voicing their thanks to the officers.
About one-third of vehicles were being turned away.
Source: Read Full Article