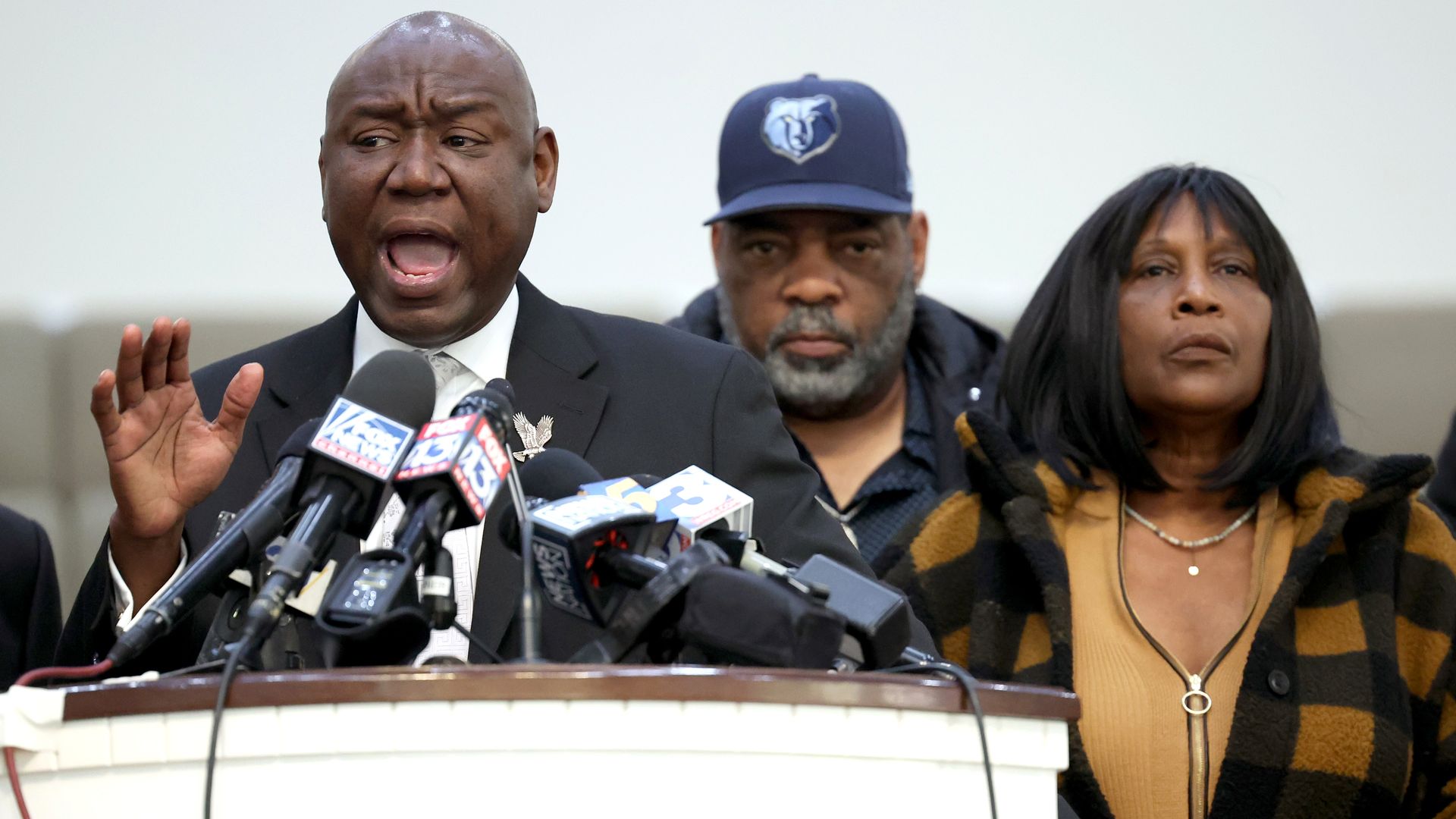 Rodney Wells (C) and RowVaughn Wells, the stepfather and mother of Tyre Nichols, and civil rights attorney Ben Crump in Memphis, Tennessee, in January 2023.
Lawyers representing the family of Tyre Nichols, a 29-year-old Black man​ who died days after he was brutally beaten by officers during a traffic stop in January, filed a multi-million dollar federal civil lawsuit against the city of Memphis, Tennessee, its police department and several individuals on Wednesday.
Why it matters: One of the family's lawyers, civil rights attorney Ben Crump, said the family is seeking a total of $550 million in damages over the "dehumanizing extrajudicial killing" of Nichols.
Details: Nichols, a father who enjoyed skateboarding and photography, was pulled over by members of a specialized police unit just blocks away from his home on Jan. 7 and died days later on Jan. 10.
Weeks after Nichols's death, the police department released multiple disturbing videos of the traffic stop, which showed Memphis Police Department (MPD) officers kicking, punching and striking Nichols with a baton as he screamed for help and pleaded for them to stop.
Five former MPD officers earlier this year were charged with, and pleaded not guilty to, second-degree murder and other crimes over the death of Nichols.
The officers were members of a now-disbanded special police unit set up by MPD in response to rising violent crime in Memphis, but the unit itself faced controversy over its tactics and police officers' conduct, Axios' Shawna Chen reports.
At least seven officers involved in the traffic stop have been fired by the department.
The lawsuit, which compares Nichols' beating to the 1955 killing of Emmett Till, said Nichols' death and the actions of the MPD officers the night of the traffic stop were "the culmination of a Department-ordered and Department-tolerated rampage" and the city's "deliberate indifference."
In addition to the city and MPD Police Chief Cerelyn Davis, seven former Memphis Police Department officers and three former Memphis Fire Department employees are listed as defendants in the lawsuit.
The former fire department officials are accused of being partly responsible for Nichols's death by being deliberately indifferent to his "plainly obvious, critical medical needs."
What they're saying: "This lawsuit is not only to get the justice for Tyre Nichols in the civil courts, but it is also a message that is being sent to cities all across America, who have these police oppression units that have been given the license by city leaders to go and terrorize Black and brown communities," Crump said, referring specialized police units similar to the one disbanded in Memphis.
"It is our mission to make it financially unsustainable for these police oppression units to unjustly kill Black people in the future," Crump said.
The lawsuit includes at least seven accounts from other community members who say they were victims of violence, aggression and unconstitutional policing from Memphis's disbanded unit.
The big picture: The Department of Justice is currently investigating MPD's use-of-force and de-escalation policies, while a separate probe is reviewing the use of specialized police units nationwide.
Go deeper: What we know about the shooting of Ralph Yarl
Source: Read Full Article