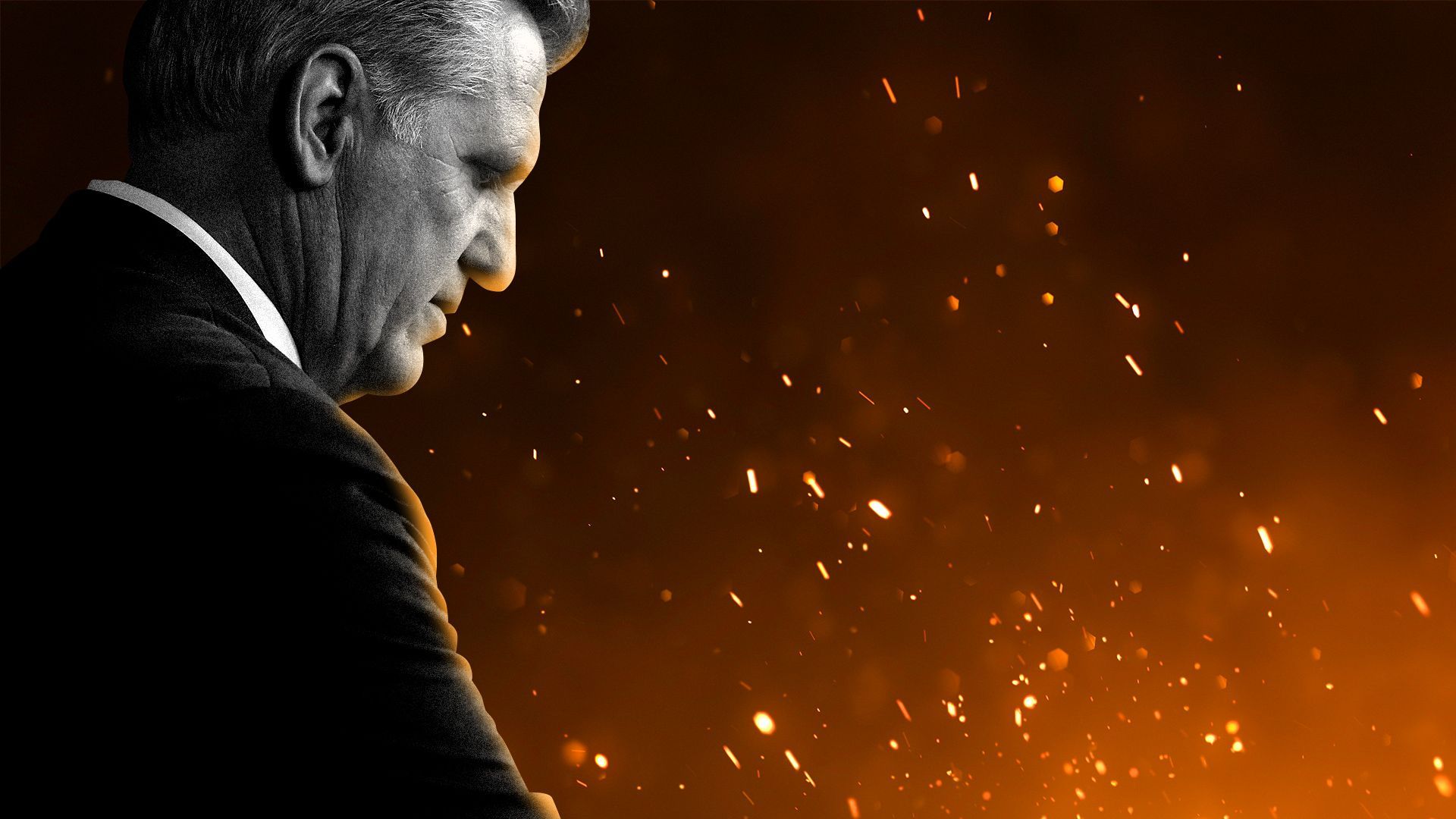 Photo illustration: Aïda Amer/Axios. Photo: Chip Somodevilla/Getty Images
House Speaker Kevin McCarthy (R-Calif.) has made an audacious bet by reopening the debate over Jan. 6, thrilling the GOP's right-wing base but horrifying moderates who see the insurrection as a political albatross.
Driving the news: As Axios first reported, McCarthy has entrusted Fox News' Tucker Carlson with 41,000 hours of Capitol surveillance footage from the Jan. 6 insurrection. McCarthy had faced intense pressure to release the footage from far-right members whose votes he needed to become speaker.
The step was hailed by right-wing media and GOP members such as Rep. Marjorie Taylor Greene (R-Ga.), who has described Jan. 6 riot defendants as "political prisoners."
Democrats, including members of the House Jan. 6 committee, condemned the move as a dangerous partisan stunt with serious implications for Capitol security.
What they're saying: "[T]he apparent disclosure of sensitive video material is yet another example of the grave threat to the security of the American people represented by the extreme MAGA Republican majority," House Minority Leader Hakeem Jeffries (D-N.Y.) wrote in a letter to colleagues Tuesday.
Why it matters: House Republicans have been itching to exact revenge on the Jan. 6 committee dating back to last summer. But polls — and election results — consistently have shown Jan. 6 to be a losing issue for Republicans.
Two years after supporters of former President Trump stormed the Capitol to try to reverse his election defeat, 59% of all voters say Trump is responsible for inspiring the attack, according to a Morning Consult/Politico poll last month.
Election deniers suffered losses across the board in the 2022 midterms. They contributed to an underwhelming GOP performance, raised doubts about the potency of a Trump endorsement — and left McCarthy with a smaller House majority than he had hoped.
Zoom in: That majority is propped up by moderates and Republicans who won in Biden districts, where independents and suburban swing voters are more concerned with pocketbook issues than re-litigating a dark day in U.S. history.
"I get it. There are people that still want to kick that dead horse," Rep. Steve Womack (R-Ark.) told CNN last year, when the idea of rehashing Jan. 6 first gained steam.
"But at the end of the day, I think the smartest political move for us is to concentrate our efforts on the policies that will absolutely make life better for all Americans."
The big picture: McCarthy signaled support for releasing the footage last month, characterizing it as a matter of transparency. Publishing the tapes publicly would be celebrated by the media organizations that have pushed for access in court.
But handing the footage exclusively to Carlson — who has promoted conspiracy theories suggesting Jan. 6 was a "false flag" operation by left-wing groups and the FBI — undermines any claim that this is not a partisan exercise.
Some see the move as an effort by McCarthy to shore up support from one of the most influential conservatives in the country, after Carlson trashed the Republican leader during the speaker election.
Between the lines: Bringing Jan. 6 back to the forefront of public debate also could force McCarthy to come to terms with his own shifting positions on the Capitol attack.
In the days after the insurrection, McCarthy publicly said Trump "bears responsibility" for the riot and privately said he would urge the president to resign.
Today, in a sign of the far-right's influence on his speakership, McCarthy appears to be laying the groundwork to blame Democratic leadership for security failures that led to the attack.
What to watch: The extensive Capitol footage played during the Jan. 6 committee's hearings showed members of Congress running for their lives as Trump supporters violently assaulted law enforcement with flagpoles, stun guns, bear spray and other weapons.
It's unclear what Carlson has in store for the trove of unreleased tape, but fundamentally changing the existing narrative will be a tall — and politically risky — task.
Source: Read Full Article