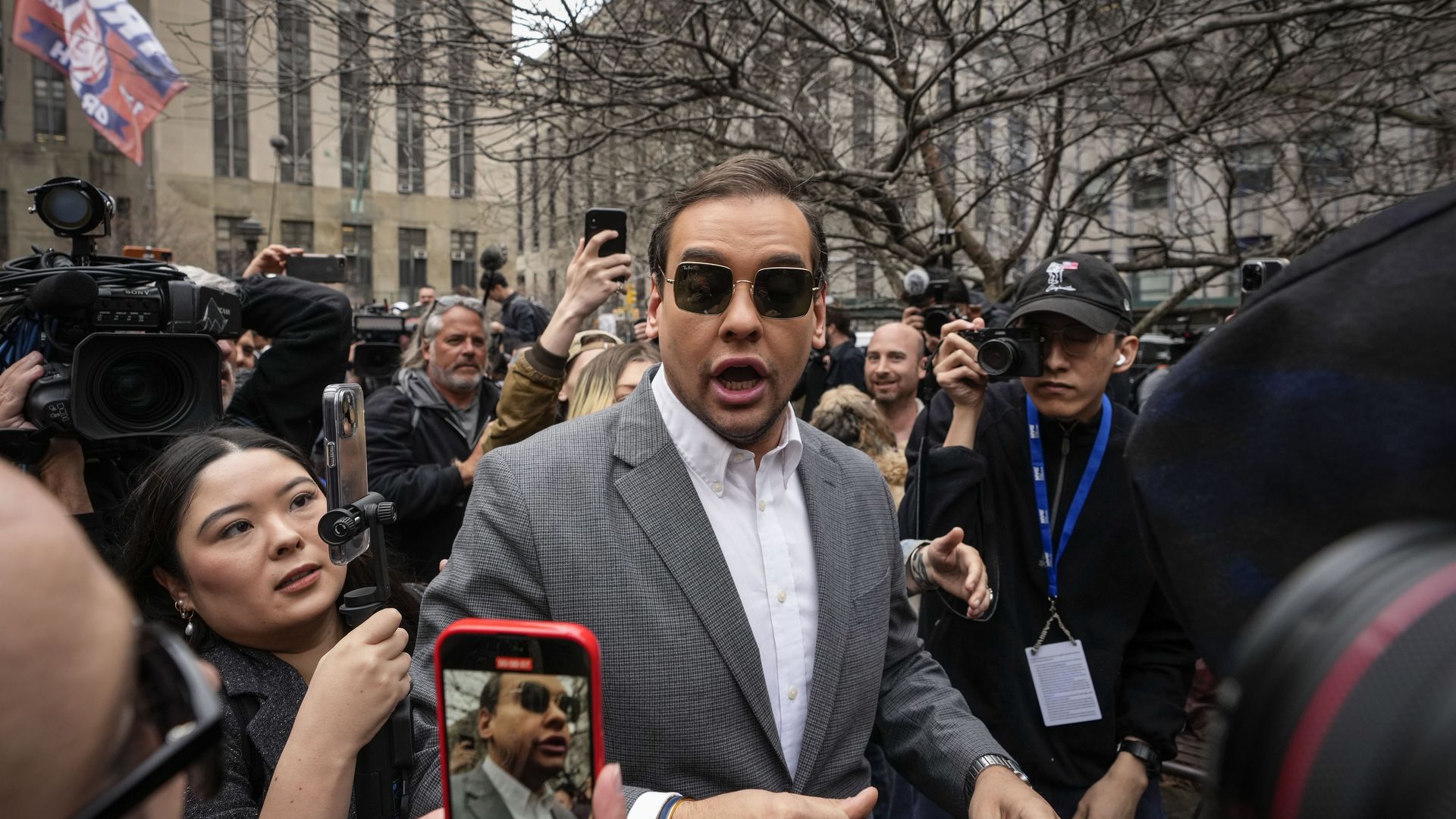 Rep. George Santos (R-N.Y.) walks through the crowd gathered outside the courthouse where former President Trump was arraigned on April 4 in New York. Photo: Drew Angerer/Getty Images
Rep. George Santos' (R-N.Y.) campaign finances are in a dire state, as the embattled Long Islander has had a net loss of $3,000 so far this year, according to Federal Election Commission filings.
Why it matters: Despite calls from within his own party to resign over his widespread deceptions during the last campaign, Santos hasn't ruled out running for a second term.
The New York Post reported Santos plans to announce his reelection bid as soon as Monday, even as he already faces one primary challenger.
Driving the news: Santos raised about $5,300 in the first three months of 2023 but refunded roughly $8,300 to donors during the same period, according to the filings.
Most of the $5,300 came in the form of small contributions from the GOP fundraising platform WinRed, with one additional $250 donation from a donor named Sacha Basin.
That left Santos with $25,000 cash on hand going into April. He reported no expenditures this year other than the refunds.
Santos also owes $715,000 from loans he reported making to his campaign last cycle — the subject of considerable public scrutiny and an FEC probe, given his questionable personal finances.
Between the lines: Virtually all of Santos' cash on hand was raised in the weeks between the November election and a New York Times report in December that revealed blatant falsehoods he told on the campaign trail.
Among the alleged fabrications were details about his education and professional background, his religious identity and family history. He also faced a litany of legal issues.
By contrast, Santos' fellow GOP freshmen in highly competitive New York seats — who unlike him are not expected to face serious primary challenges in 2024 — raised far more for their campaigns.
Rep. Marc Molinaro (R-N.Y.), for example, brought in nearly $640,000 during the first quarter and had more than $600,000 in cash on hand.
Source: Read Full Article