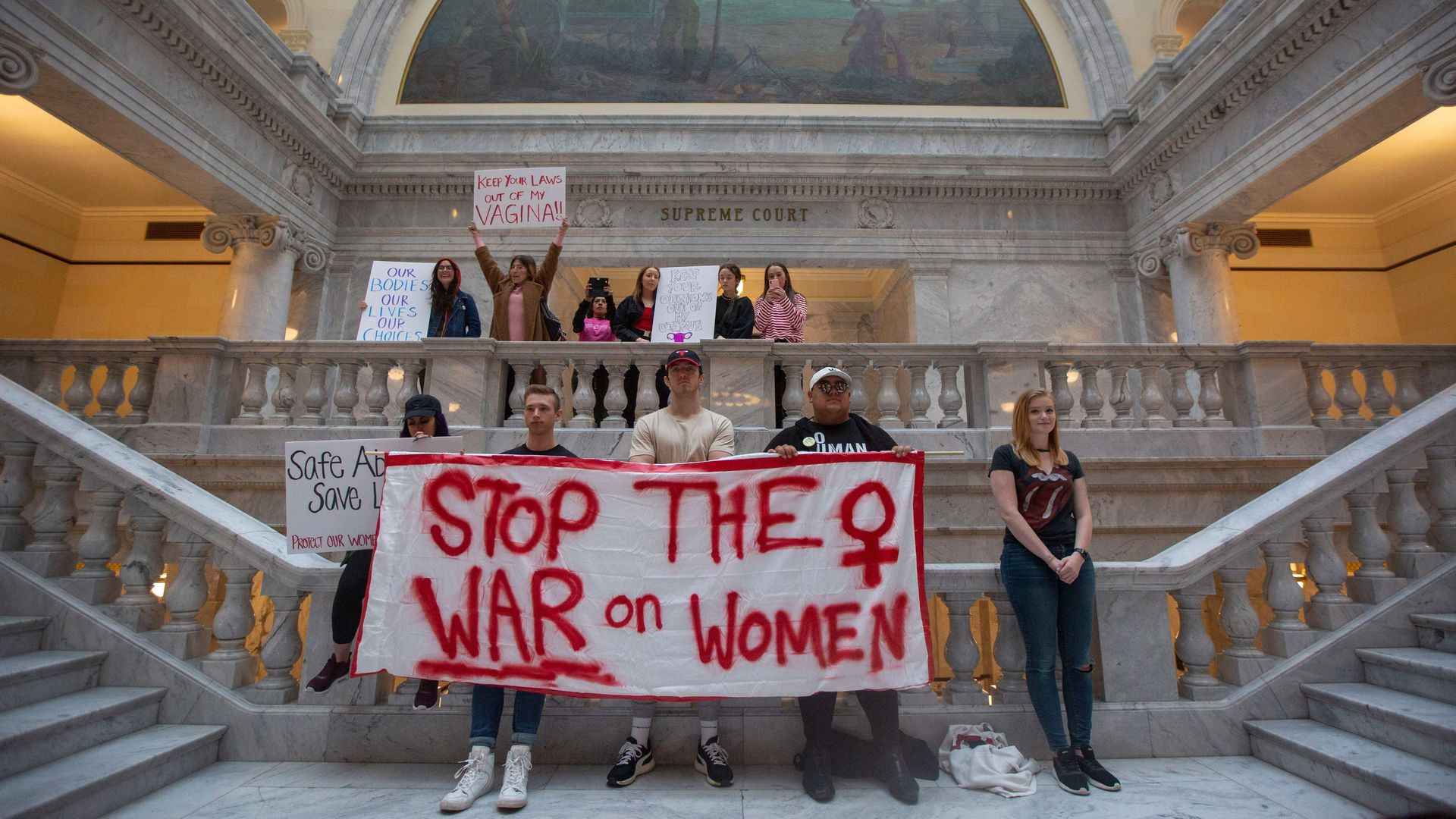 Protesters hold signs at a rally to oppose abortion bans and increased restrictions happening throughout the United States, at the State Capitol Building in Salt Lake City, Utah, in 2019. Photo: Natalie Behring / AFP
The Planned Parenthood Association of Utah (PPAU) and the state ACLU Utah filed a lawsuit Monday challenging the state's abortion clinic ban.
Driving the news: Republican Gov. Spencer Cox last month signed ​​HB 467 — effectively closing all abortion clinics in the state.
Under the new law, abortions must be performed in hospitals, which providers say would limit access. Only 1% of abortions take place in hospitals in Utah, according to the Guttmacher Institute, a reproductive health organization that supports abortion rights.
Details: The law prohibits the licensing of abortion clinics starting May 3 and outright bans them Jan. 1, 2024. PPAU, which operates three of Utah's four abortion clinics, said they plan to stop offering abortions on May 3.
Of note: Abortions are legal in Utah up to 18 weeks of pregnancy.
What they're saying: Sarah Stoesz, PPAU interim president and CEO told reporters Monday that more than 95% of abortions in Utah are performed at licensed abortion clinics, not hospitals.
"If this ban takes effect it will create insurmountable obstacles for people needing care," she said, adding Utah hospitals aren't prepared to accommodate patients that received affordable care at specialty clinics, per AP.
The other side: Utah Republicans previously argued that abortion clinics aren't needed after the U.S. Supreme Court overturned Roe v. Wade.
"It is the state's responsibility to protect the most vulnerable, and that includes the unborn," Rep. Karianne Lisonbee (R-Clearfield), who sponsored the law, told KUTV in February.
Flashback: PPAU also filed a lawsuit last year in response to Utah's abortion "trigger" law.
That law is currently on hold pending ongoing litigation.
Source: Read Full Article