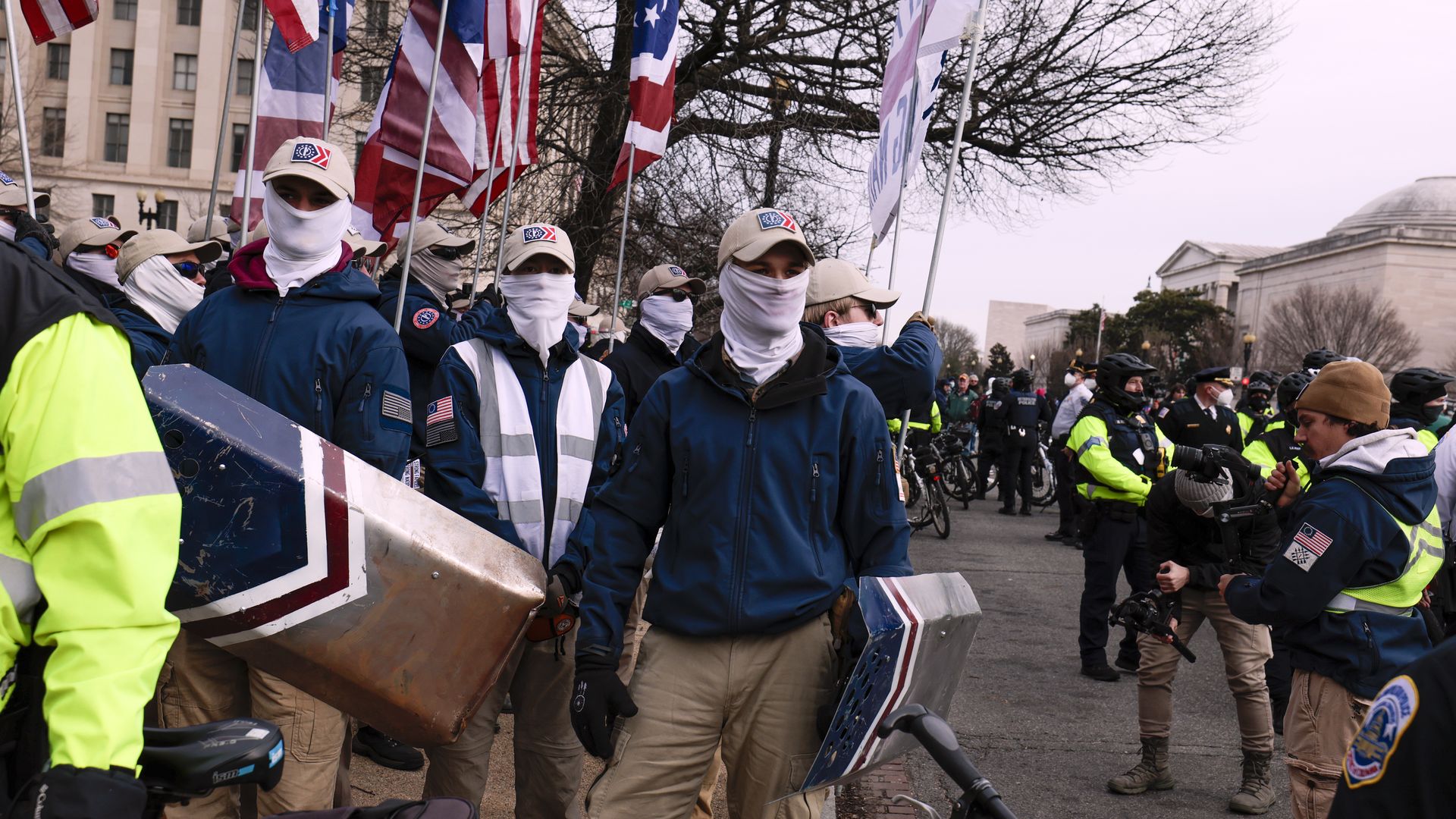 Police officers surround members of the Patriot Front as they march with anti-abortion activists during a rally in January 2022. Photo: Anna Moneymaker/Getty Images
The spread of white supremacist propaganda hit record levels in 2022, according to a report published Wednesday by the Anti-Defamation League.
The big picture: The ADL's Center on Extremism identified 6,751 cases where white supremacist groups distributed "racist, antisemitic and anti-LGBTQ+" materials last year, including graffiti, banners, stickers and fliers.
That's a 38% jump from the year before and is the highest number the ADL has ever recorded, the report stated.
Distribution of antisemitic propaganda more than doubled in 2022, the ADL said.
"There's no question that white supremacists and antisemites are trying to terrorize and harass Americans and have significantly stepped up their use of propaganda as a tactic to make their presence known in communities nationwide," ADL CEO Jonathan Greenblatt said in a statement.
State of play: The ADL identified at least 50 different groups that distributed white supremacist propaganda last year. But it noted that 93% of the activity was from just three groups — Patriot Front, Goyim Defense League and White Lives Matter.
The Patriot Front — which calls for the creation of a white ethnostate, according to the Southern Poverty Law Center — was responsible for 80% of propaganda distribution in 2022. It was most active in Massachusetts, Texas, Michigan, Virginia, Pennsylvania and Utah.
The surge in antisemitic propaganda was driven by the Goyim Defense League. The group's "overarching goal is to expel Jews from America," the report stated.
"The sheer volume of white supremacist propaganda distributions we are documenting around the country is alarming and dangerous," Oren Segal, vice president of ADL's Center on Extremism, said.
Catch up quick: White supremacist propaganda has been on the rise for several years.
White supremacist propaganda nearly doubled from 2019 to 2020 and jumped more than 120% from 2018 to 2019.
Source: Read Full Article