Renato Coen, the foreign news editor at Sky News' Italian sister station Sky TG24, has been diagnosed with coronavirus.
Here, he explains what it was like to learn about his diagnosis, be treated at the Sacco hospital in Milan, one of the main hospitals in Italy dealing with the pandemic, and coping with the illness. He has since recovered.
On the evening of 10 March, Sacco hospital seemed to me an endless maze.
I'm 46 years old with a fever, walking around the empty streets in a daze between the hospital pavilions in search of a building that I can't find. The fever and cough certainly don't help my lucidity.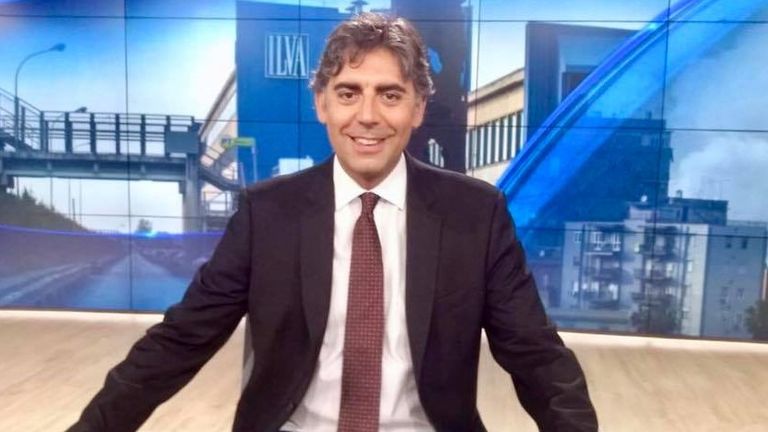 Entering the emergency room, I am made to sit down immediately. A sample of my blood is taken and someone puts a swab in my nose. Then I am taken to have an X-ray of my lungs. The symptoms are alarming.
"Tonight you'll be staying here," they tell me.
"What? I was told that I would wait for the results at home."
"Forget about it, you have a high fever. If all goes well you can go home tomorrow morning," they insisted.
Anxiety sets in. Positive would mean quarantine. My wife and daughter left for Rome a few days ago.
Sky TG24, where I work, is ready to close down at a moment's notice, triggering an emergency plan into action which would allow it to be on the air in all events.
After an hour a nurse arrives: "I have the results of the X-rays: good news, your lungs are fine!"
"Great, thanks!"
"On the other hand the blood tests…"
"Well, on the other hand…?"
"We'll bring you upstairs among those who are doing well, and wait for the result of the swab tests that will arrive tomorrow morning."
Having been moved upstairs I begin to understand what isolation means.
They put me in a room on my own, point to gloves and a mask, telling me to put them on when a health worker enters the room. They bring me food in a plastic bag, but not into the room – they leave it outside and tell me from beyond the door to open it and take it in as soon as they have left
"Good morning. You've tested positive"
6.30 am. I don't know why but I'm already awake. Today something will happen. It has to. I can't just lie around, half-dressed on a bed in an unnamed first aid room forever.
I still feel feverish and slightly short of breath. I turn on the phone which, after a few moments, starts vibrating with the arrival of a message. It's the doctor who took my test.
"Good morning, you've tested positive."
I am determined to share the news as soon as possible. I call the bosses and my friends at Sky. "Good luck guys!" I think. They try to calm me down and help and comfort me. I feel confused and need to speak to my wife.
Morning comes early in the hospital. More of my blood is taken.
Then they bring me tea. And there would have been nothing wrong with it if it weren't just a drop of liquid in the bottom of paper plate…
Who cares anyway. In fact, I have so much more I should be worrying about.
For example, I should worry that my fever shows no sign of going down, or that the instrument to measure my blood saturation indicates too low an oxygen level. Ten minutes later I have oxygen cannulas in my nose.
Pavilion 56
At about 2pm, after a short ambulance ride, I was greeted with courtesy and smiles on the second floor of Pavilion 56. They put me in a bed in a double room and run all the necessary tests.
There is a doctor who is very reassuring. She says that I don't have pneumonia for now, but I do have a high fever.
She takes away the oxygen and then adds: "From this evening on we will start an antiviral treatment; it will be a little heavy going but we have seen that it is quite effective".
I turn to my roommate, who says to me: "Hell man, those pills are bombs, they destroyed me. But now I'm fine and I'm being dismissed."
Source: Read Full Article