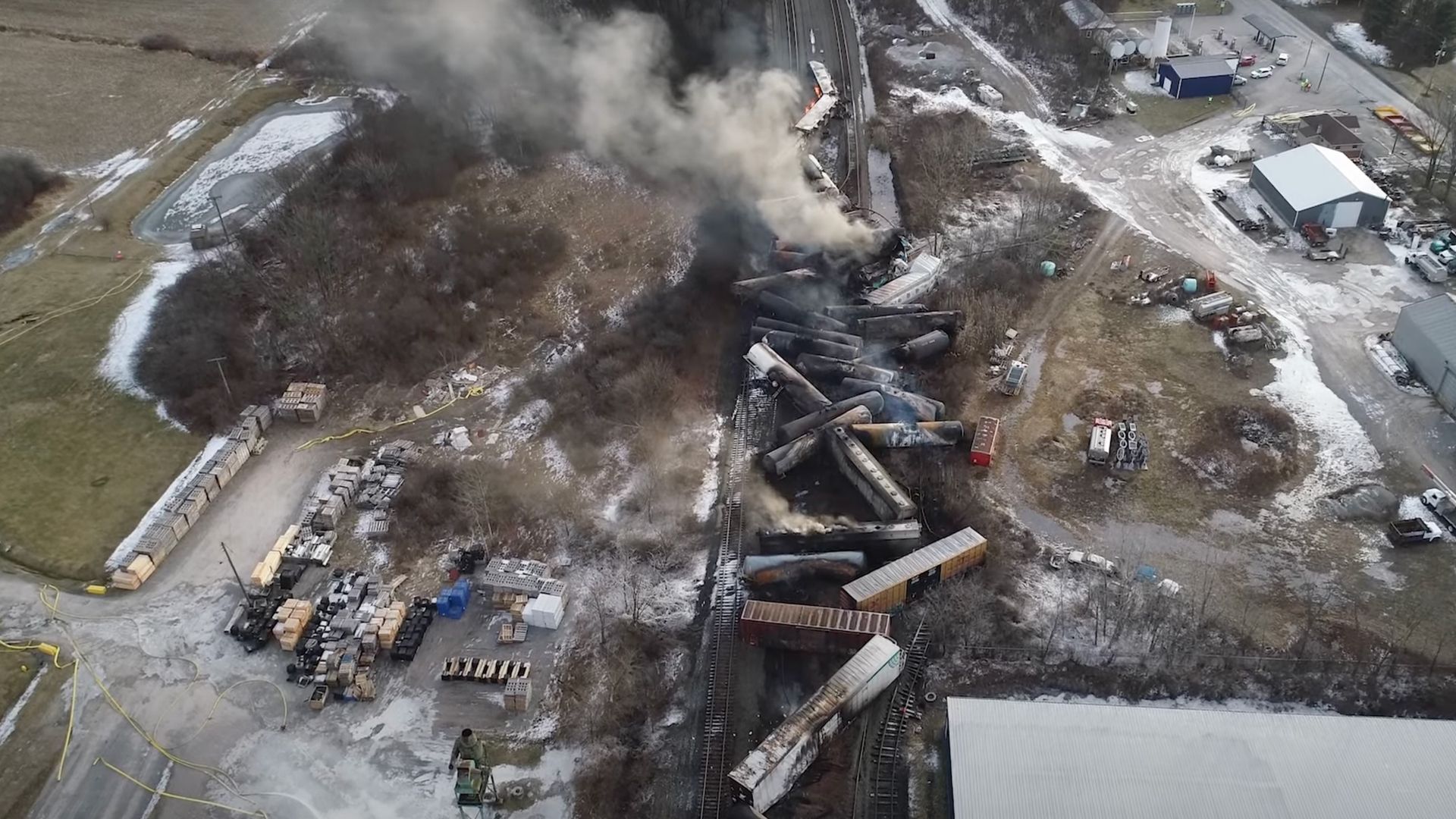 The site of the train derailment in East Palestine, Ohio, on Feb. 15. Photo: NTSB/Handout via Xinhua
The crew of the Norfolk Southern train that derailed in East Palestine, Ohio, attempted to stop it after receiving an alert about an overheating wheel bearing, an investigation found.
Why it matters: The preliminary findings from the National Transportation Safety Board's (NTSB) investigation released Thursday came as residents have pushed for answers from officials over the potential health dangers of long-term exposure.
The report was released as Transportation Secretary Pete Buttigieg was visiting the site of the crash.
Residents of the town were evacuated during a controlled burn of chemicals in derailed cars.
What they're saying: The NTSB said in its report that as the crew slowed the train to inspect cars for a hot axle, an automatic emergency brake application initiated, which may indicate the train experienced a separation during deceleration that disconnected air brake hoses between railcars.
"After the train stopped, the crew observed fire and smoke and notified the Cleveland East dispatcher of a possible derailment," the report reads.
By the numbers: Thirty-eight railcars were involved in the derailment, including 11 tank cars carrying hazardous materials that ignited after the wreck and damaged an additional 12 non-derailed railcars.
First responders mitigated the fire from the initial wreck on Feb. 5, but five tank cars carrying 115,580 gallons of vinyl chloride concerned authorities because the temperature inside one tank car was rising, suggesting the chemical was undergoing a polymerization reaction and could explode.
Because of the explosion risk, first responders vented and burned vinyl chloride — a colorless but hazardous and carcinogenic gas —in the five cars after expanding an evacuation zone around the crash site, according to the NTSB.
The NTSB said surveillance video from a local residence showed a wheel bearing on the first railcar that derailed "in the final stage of overheat failure moments before the derailment."
That wheel bearing and other equipment have been collected as evidence by the NTSB for its ongoing investigation, it said.
Norfolk Southern executives in an earnings call presentation on Jan. 23 — just weeks before the East Palestine derailment — said the rate of accidents on its railways had increased in each of the last four years.
The Environmental Protection Agency ordered the company on Tuesday to clean up contamination from the crash under a plan approved by the agency.
The Department of Transportation on Tuesday also called for multiple measures to increase rail safety and hold rail operators responsible for violating safety regulations.
Go deeper: Ohio derailment prompts calls to investigate federal oversight of trains
Editor's note: This story has been updated with additional details and background.
Source: Read Full Article