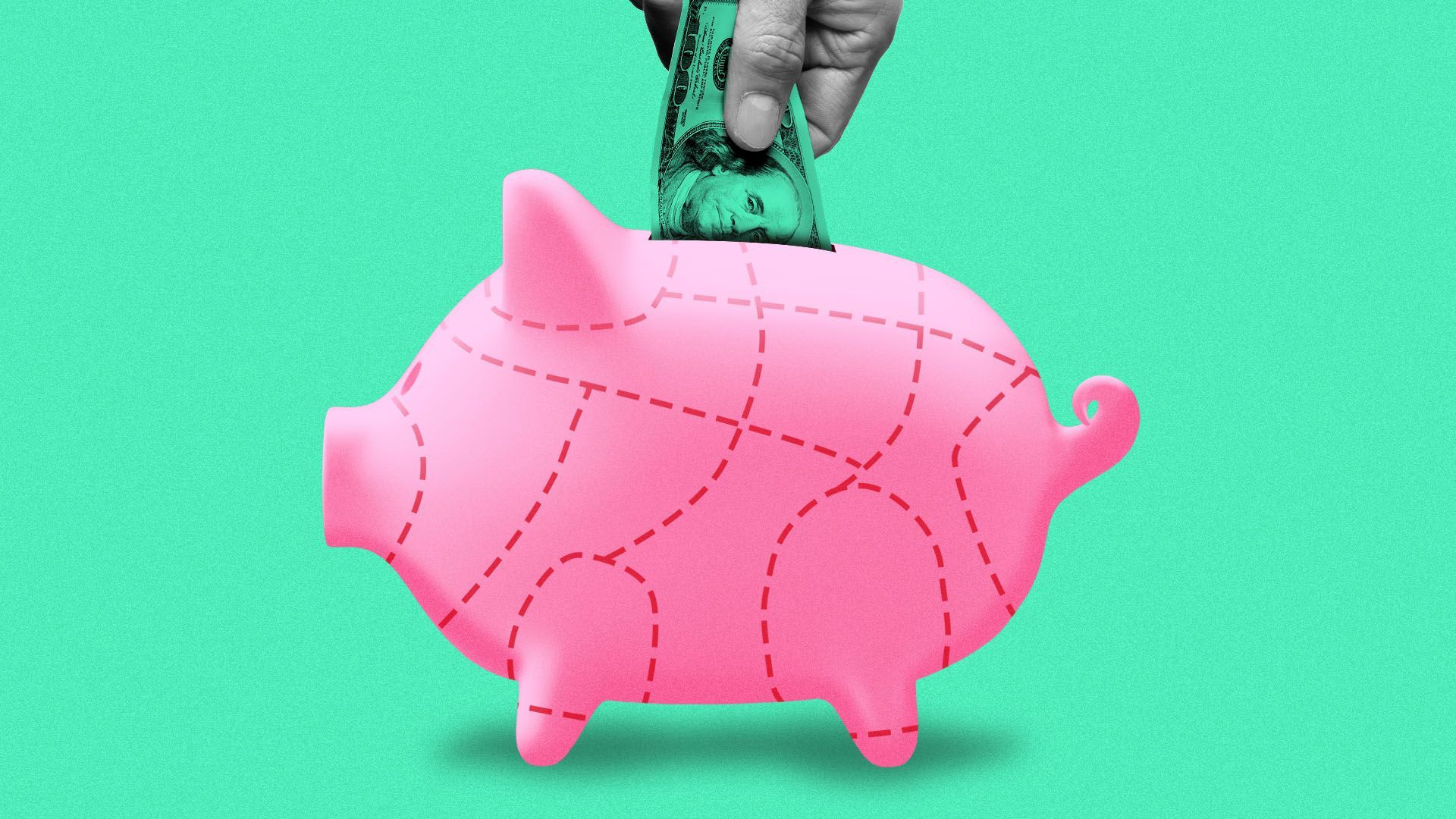 Illustration: Sarah Grillo/Axios
So goes Silicon Valley, so goes the world.
Driving the news: Credit Suisse last night said it would borrow up to $54 billion from the Swiss government, which took a page out of the U.S. "backstop" playbook.
The Swiss bank has been crumbling and stumbling for years, so it's not fair to draw a straight line to it from SVB. But it also would be naive to ignore the psychological crisis of confidence that SVB sparked last week, and that the U.S. government failed to extinguish on Sunday night.
Elsewhere: Bloomberg reports that First Republic is exploring options that could include a sale.
It adds that the San Francisco-based bank also is "weighing options for shoring up liquidity," which is strange given that it just got a $70 billion backstop from JPMorgan.
First Republic shares got crushed at today's open, as did shares of many other regional U.S. banks. Credit Suisse stock, on the other hand, climbed.
The big picture: It feels like we're on the brink of a bank merger wave. And maybe need to be. But a giant caveat is that U.S. banks don't have a clue what the White House will, and won't allow.
Remember, big banks and private equity were basically told "need not apply" to the FDIC auction for SVB last weekend. But the administration hasn't discussed it publicly — not even explaining why it rejected the one takeover bid it did receive.
The perception is that there is strong WH opposition to acquisitions by too-big-to-fail banks, even though last weekend suggests the threshold for that descriptor has been significantly lowered. How can First Republic look for a buyer, if it doesn't know the acceptable buyer universe?
Meanwhile, the startup financing world is returning to something close to normal.
For example, Stripe yesterday completed its massive secondary deal, raising $6.5 billion at a $50 billion valuation.
VCs are telling portfolio companies (and themselves) to be wiser with corporate treasury management, but that's more a technical change than an activity change.
There's still some finger-pointing over the SVB bank run, and ongoing questions over where to bank, but no reason to expect that such recriminations will prevent firms from working with one another in the future.
The bottom line: This week has been a month. And it's not over.
Source: Read Full Article